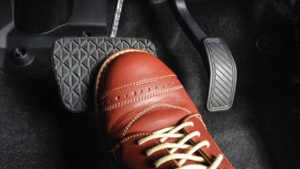 Schedule An Appointment
The following are some questions to ask yourself if you car is having brake issues.
Is your car near or past the number of miles your vehicle's manufacturer recommends between brake fluid exchanges?
Has it been over a year or 12,000 miles since the last time your brakes were inspected?
Do you you hear grinding or squealing when you apply the brakes?
Does your vehicle pulls to one side when you apply the brakes?
Has the brake warning light on your dashboard come on and does it stays on?
Does the brake pedal responds slowly and feels "spongy"?
Does your vehicle requires longer distances to stop than it used to?
Does the brake pedal goes to the floor and/or requires excess pressure?
Speedway Garage recommends having your brakes inspected on an annual basis. This will ensure that any potential problems are discovered before they become dangerous and more expensive to fix.
We offer a FREE visual brake inspection, which includes a measurement of the brake pads and a brake fluid test. If we identify any issues during the inspection that require brake repair, our brake repair specialists will offer the recommendation.
Our highly trained brake repair specialists are equipped to perform any brake service including:
| | | | |
| --- | --- | --- | --- |
| New Brake Pad Installation | Resurfacing or Replacing of Brake Rotors | ABS Brake Repair | Brake Line Repair |
| Brake Caliper Replacement | Brake Hose Repair | ABS Actuator & Pump Service | Wheel Speed Sensor Repair |
Speedway Garage uses only premium quality brake parts